Your stomach is full from the meat fest you had earlier in the day. You are now ready to head indoors, pump on the air con, and fire up Netflix. But what to watch? We have you covered...
There something voyeuristic about a fly-on-the-wall music documentary that does all but film their toilet habits. We get to see their off stage personalities, what goes on behind the scenes in some of the most iconic gigs of all time. Like our favorite artists pre-show rituals. Did you know Led Zeppelin frontman Robert Plant prefers to get ready for a performance with a mug of hot tea and freshly-pressed shirts and slacks that he ironed himself. Plant believes the ritual helps him get "in the mood."
We've taken it upon ourselves to tell you about 10 of the coolest music documentaries on Netflix. Some of these are worth savoring... just like perfect BBQ meat...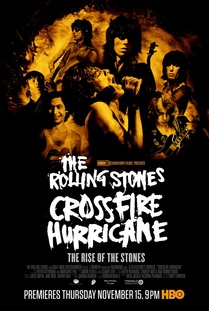 1. The Rolling Stones: Crossfire Hurricane 
 Year: 2012
Director: Brett Morgan
Oscar-nominated documentarian Brett Morgan (On the Ropes) interviewed The Rolling Stones on the eve of the band's 50th anniversary. "No cameras were allowed in the room," he lets us know at the beginning of Crossfire Hurricane. But immediately we're taken back to one of the band's earliest tours of America, where they reigned as the bad boys to The Beatles' cleaner image. With tons of concert clips, interview footage and backstage moments—much of which was previously unreleased—it's an entertaining story about natural entertainers. Courtney Love liked it enough to invite Morgan to helm the Kurt Cobain documentary Montage of Heck. —Shawn Christ
2. Muscle Shoals 
 Year: 2013
Director: Greg "Freddy" Camalier
Freddy Camalier's masterly Muscle Shoals is about the beginnings and then the heyday of the recording scene in Muscle Shoals, Alabama, a tiny town that improbably changed the face of rock'n'roll forever. First-timer Camalier is obviously a natural storyteller, but there's so much more to the doc than promise—the cinematography is lush and beautiful, the editing is crisp and precise, and it's in turns heartbreaking, inspiring, wry, thought-provoking, nostalgic and genuinely funny. It's simply a stunning debut film. It helps that Camalier and his producing partner Stephen Badger are after more than just a lesson in musical history: They delve into the Civil Rights Movement and its effect specifically on Alabama, especially as it relates to a Muscle Shoals music scene that was, shockingly enough, lacking in any racial tension. They return again and again to the ancient Native American legend about the river that flows through the town, and the water spirit who lived there, sang songs and protected the town. Not to mention that the personal life of Fame Records founder Rick Hall, the protagonist of the film, is itself worthy of a Faulkner novel. Muscle Shoals is thrilling, it's engaging, it's fascinating, it's stirring, it's epic—whether you're a music lover or not. —Michael Dunaway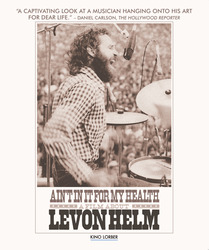 3. Ain't In It for My Health: A Film About Levon Helm 
 Year: 2010
Director: Jacob Hatley
From Levon Helm's days as the drummer for one of the most influential musical groups in American history, The Band, to his late-period Grammy-winning albums, the singer, songwriter and multi-instrumentalist made a lasting impact. But bankruptcy, drug abuse and throat cancer are just some of the demons exposed in this enthralling documentary. Director Jacob Hatley followed Helm on the road, on the farm, in his home and to the doctor, where he eventually learned that his vocal cords were in dire straits. (Cancer would eventually take Helm's life in 2012.) Hatley allows us to bear witness to Helm's life, while at the same time inserting just enough backstory to serve as a foundation to that life. Others, like current and ex wives, fill in the blanks where Helm was reluctant to speak, as in regards to his feud with ex-Band member Robbie Robertson. —Tim Basham
4. Beware of Mr. Baker 
 Year: 2012
Director: Jay Bulger
This documentary of Ginger Baker, one of greatest drummers of the past century, has pretty much everything one could want. We get seemingly unfettered access to the still-living subject (whose surliness seems undiminished) and his family. We hear interviews with a host of fellow musicians, most of them legends themselves, weighing in on the man and his music. We see copious footage and musical tracks of Baker on and off stage. Plus, there's clever, but not overwrought, usage of animation and other techniques to accompany transitions and voice-over that would otherwise just call for a Ken Burns-ian succession of stills. As a result, Jay Bulger manages to convey a portrait of the irascible Baker that is both entertaining, unsparing and, yet, sympathetic toward a man whose compulsions have made him both a legend and a pariah. —Michael Burgin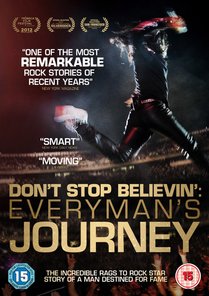 5.Don't Stop Believin': Everyman's Journey 
 Year: 2013
Director: Ramona S. Diaz
Everyone loves a story in which a likable underdog triumphs and finds success; it's a formula that's been proven to be a hit with film audiences over and over again. The latest example of this is the story of Arnel Pineda, who was plucked out of obscurity from his life playing in cover bands in the Philippines to become the new frontman of Journey. Ramona S. Diaz's documentary, which played at the Tribeca Film Festival, offers an engaging, sweeping overview of Pineda's story that's buoyed by the cheesy-yet-classic sounds of Journey and Pineda's soft-spoken, humble charm. Throughout it all, he comes across as a pretty grounded guy, but also like he is in a dream from which he doesn't want to wake. The band seems to really love him, and when the film follows them back to the Philippines for a triumphant hometown concert, this really becomes apparent. Don't Stop Believin' is more than just a rock documentary. It is, like the subtitle says, a story of an Average Joe making good in a way he could never have imagined, and that's endlessly entertaining. —Jonah Flicker